Left
November 19, 2012
MSNBC David Gregory: Why Didn't Susan Rice Call it Terrorism?
Obama Makes History Again! Major Foreign Policy Achievement!
Yahoo News: Palestinian Civilian Toll Rises
MSNBC: Israel Stups Up Attacks In Heavily Civilian Populated Areas Despite Mediation Efforts
November 17, 2012
GOP Conservative Entertainment Complex Deceiving Themselves
Attack Bobby Jindal, Starting Now
Republicans Reject Obamacare, Still
Republicans To GOP: Update Your Thinking
November 16, 2012
Higher Unemployment: No More Twinkies; Hostess Going Out of Business
Politico: Majority Will Blame Republicans If Bush Tax Cuts Expire
Petraeus Replacement No Perfect Choice For Obama
November 15, 2012
AP: GOP Elects Woman to Top Spot Due to Double-Digit Election Losses
ABC: Signature Reaching Secession States Took Millions in Federal Money
Opponents Counter: Union Forever
CBS: Petraeus to Testify Behind Doors with Sen. Dianne Feinstein, D-Calf. and Senate Intelligence Committee; Closed to Media and Public
CNN: Jindal Takes Shot At Romney Over "Gifts" Comment
Billionaire Buffet For Hillary 2016
MSNBC: Sandy Pushes Jobless Claims to 18 Month High
Mediaite: Luke Russert Reminds Pelosi "You're All Over 70"
November 14, 2012
Obama to Republicans: "But when they go after the U.N. ambassador, apparently because they think she's an easy target, then they've got a problem with me,"
Obama's $1.6 Trillion Dollar Tax on the Rich
Slate: House Republicans Are Tax Ignoramuses
Unscathed By Scandal, Obama Carries on
NBC News: Emboldened Democrats To Protect and Expand Entitlements
Progressives to Pelosi: Don't Go!
Unions File Lawsuit Against Scott Walker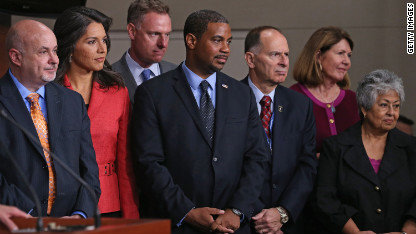 CNN on New US House: Women and Minorities On Left; White Men To the Right
November 13, 2012
HuffPo: Ted Cruz On 'Latino' Vote
Did Cruz Do Better With Latinos?
Petraeus is Finished, Now Gen. John Allen
November 12, 2012
CNN Doubles Down with 'Unliking' Romney On Facebook
ABC: Shocking News Ends Career of Petraeus; Nothing More
Texas Gets Enough: Petition For Secession
Programs for Poor, Social Security, and Medicare Targeted
Jeffrey Young: Southern States Refuse Coverage To Poor People Despite Government Subsidy
Gay-rights Pressure Obama For Discrimination Executive Order
LA Times: Republicans KO'd and Lost
David Axelrod: Americans Agree with Obama, Want Higher Taxes
Right
November 19, 2012
Susan Rice In Hot Water; White House Not Responsible
Conflicting Reports Over Gaza: CNN, NY Times Claim Palestinian Boy Victim Of Israel, Telegraph UK Claims Boy Was Victim of Hamas
November 17, 2012
Breitbart: CNN Uses Faked Palestinian Injuries
Congress Claims Foul: EPA, Lisa Jackson Suspected Of Email Alias
Chris Horner + 2 Colleagues at CEI Filed Lawsuit Against EPA
AP At Odds With Israel: Changes Headline
Teamster Union Saw the Books, Bakers Union Killed the Hostess
November 16, 2012
Jim Demint To FTC: Please Don't Expand Authority Through Creative Theories
The Weekly Standard: Petraeus Knew Who Was Responsible in Benghazi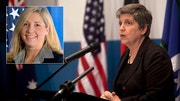 Gov't Pays Out $175k To Male Senior ICE Official Over Complaints of Lewd Frat-House Style Behavior By Female Officials
November 15, 2012
Fox News: Lawmakers Dig for Answers On Libya
Florida Sends Auditors Amidst Voting Irregularities; Allen West Awaits
The Blaze: More Layoffs, Including 500 At NBC
Baldwin to Secessionists: Welcome to United States of Caucasia
Red State: Cybersecurity Act Defeated Again
Video: McCain Responds to President Obama
November 14, 2012
All In: 50 States Making Statements
Not Ready To Concede: Allen West Stands Firm
Krauthammer: Obama Admin Held Scandal Over Petraeus For Favorable Benghazi Review
Pressure On Holder To Be Honest
Mark Levin to GOP Pundits: Stop Embarrassing Yourselves
November 13, 2012
Conservative Ted Cruz Warns Republicans: Move to the Right, Or Else. Do Better Communicating Values To Hispanic Communities
Benghazi Far Graver than Watergate
So Called GOP Further and Further From Conservatism
Left Continues Attacking Right: CNN vs Rick Santorum
Red State: Two Types of GOP; Those Disconnected From Washington, and Those Who Don't Like Conservatives
Thomas Sowell: Romney Was Too Nice, and Then Some
November 12, 2012
Nearly Half the Country's States Petition Secession
DOJ: Knew About Petraeus Affair For Months
Did Broadwell Reveal Classified Benghazi Info?
S.E. Cupp: Obama's Foreign Policy IS Bush's Foreign Policy
Obama to Gays: No Executive Order